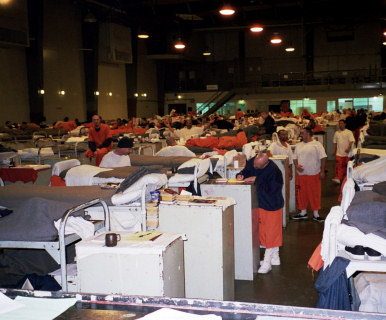 Prison gymnasiums and day rooms packed with hundreds of prisoners sitting on or standing idly next to their double and triple bunk beds. Medical clinics in tiny rooms with sewage water dripping in. Emergency rooms with no medical supplies, no sutures or gauze, and no running water. Constant racial tensions, gang violence, stabbings, and suicides.

These are just a few of the myriad problems that make up California's prison crisis. In 2006, Governor Arnold Schwarzenegger declared a state of emergency, calling the state prison system "dangerously overcrowded."

"Prisons In Crisis" is a one-hour radio documentary that highlights some of the major parts of the crisis and describes how it started—how tough-on-crime legislation and the zero tolerance policies of the 80's and 90's led to more convictions, longer sentences, and an explosion in the prison population. California now has the highest prison population and the highest recidivism rate in the country.

California also has the dubious distinction of being the first state to lose control of its entire prison medical care system to federal receivership. And it may soon be the largest state to have a prison population cap imposed by a federal court, mandating a huge reduction in the number of prisoners incarcerated.

This radio program describes how the current prison crisis is finally forcing policy makers, politicians, and government officials to reconsider the punitive policies of the past two decades and consider alternative approaches to incarceration and parole.

What is happening in California has serious implications for the rest of the country. Many states are facing the same overcrowding problems in their prisons and if nothing is done, they may soon find themselves in crisis as well. The total United States prison population stands at 2.2 million and is likely to grow larger. California serves as a cautionary tale of what can go wrong with unrestrained prison growth.