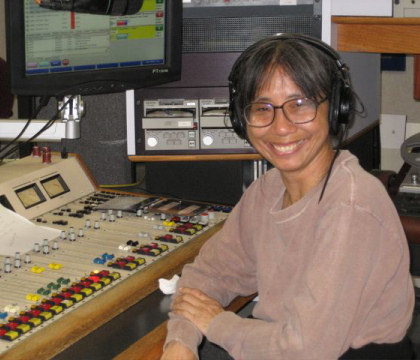 Photo by Sandy Miranda
JoAnn Mar is an award-winning journalist and radio documentary producer. She has worked in public radio since the late 70s. Her news reports and documentaries have been featured on National Public Radio, Voice of America, The Charles Osgood File, Weekend America, Pacifica Radio, and AARP's series Prime Time Radio. Her documentary work has covered topics such as death and dying, women's issues, the plight of immigrants, and public education.

More recently, Mar was the recipient of the prestigious George Polk award in 2005 for investigative reporting on prison privatization. Her involvement with prisons started in law school, when she took part in a prisoners rights clinic for two years. Mar received her B.A. degree from the University of California at Berkeley and a law degree from Syracuse University. As part of her work in media, she has been on staff at KPFA in Berkeley and KALW in San Francisco. Most recently, she was the recipient of a 2007 media fellowship from the Open Society Institute.